We are delighted to be returning to perform at the Royal Highland Show, Edinburgh on Saturday 22nd June 2019 – West Band Stage at 1pm and in the Main Ring around 3.30pm.
Thrilled to be performing in the amazing festival of music in October 2019: The Cumnock Tryst.
Saturday 5th October at The Dumfries Arms Hotel, Cumnock at 9.30pm. Tickets can be booked online:
Sunday 1st December, the choir will be performing at St Andrew's Church, Carluke. Concert start -19:00. Details of where to buy tickets will be online soon.
Sunday 23rd February 2019 Glasgow Royal Concert Hall in aid of Maggie's Centre Lanarkshire.
Previous events:
Sunday 25th November 2018 – 7.30pm Carnegie Hall, Dunfermline.
Tickets can be booked online. Please see link:
Farmers & Farmers Wives Choir Concert RHET Fife
For more information contact: Carole Brunton – fife@rhet.org.uk / 07929338020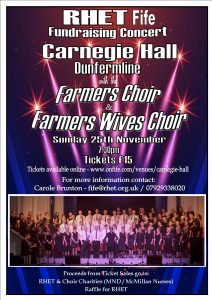 Sunday 27th January 2019 – The Sands Centre, Carlisle
Tickets can be booked online. Please see link:
Farmers & Farmers Wives Choir Concert – Sands Centre, Carlisle
Saturday 23rd February 2019 7.30pm – St Columba's Parish Church, Largs
Tickets £8 – available from Dorothy Belch 01475 689855 / dorothy.belch@gmail.com
Linda Beveridge 01475 686212 Fruit Company, Tron Place Largs