We are delighted to be returning to perform at the Royal Highland Show, Edinburgh on Saturday 22nd June 2019 – West Band Stage at 1pm and in the Main Ring around 3.30pm.
Thrilled to be performing in the amazing festival of music in October 2019: The Cumnock Tryst.
We will be performing on Saturday 5th October at The Dumfries Arms Hotel, Cumnock at 9.30pm.
More information on other concert dates will be available soon.
Previous events:
Sunday 25th November 2018 – 7.30pm Carnegie Hall, Dunfermline.
Tickets can be booked online. Please see link:
Farmers & Farmers Wives Choir Concert RHET Fife
For more information contact: Carole Brunton – fife@rhet.org.uk / 07929338020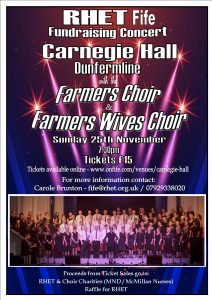 Sunday 27th January 2019 – The Sands Centre, Carlisle
Tickets can be booked online. Please see link:
Farmers & Farmers Wives Choir Concert – Sands Centre, Carlisle
Saturday 23rd February 2019 7.30pm – St Columba's Parish Church, Largs
Tickets £8 – available from Dorothy Belch 01475 689855 / dorothy.belch@gmail.com
Linda Beveridge 01475 686212 Fruit Company, Tron Place Largs